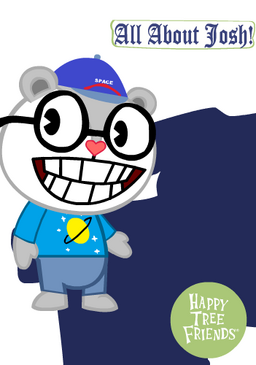 All About Josh is a DVD that features all the episodes that Josh appears in, mostly his major episodes and episodes when he makes big pictures. This is made in celebration of Josh's 100th death, the first in HTF Fanon!
Episodes
The Third Kind of art
Way Up Pie
A Gut Feeling
Fright at the Museum
Calm Before the Storm
A Slight Breeze
Flippy and His Twenty
I Nub You Not
Watch Your Weeds
Hoops, I Did It Again
Canoe Dig It
Wave Goodbye
Strike!
Quadruple Date
Best of Brute-ish
Portrait of the Party
The Golden Girls
Whole Hearted
Finger Food
The Art of Trash
Just Hold Still
Neat Freakout
I'm a Fan of You!
Sleep-Over and Out
Mecha Mash
Brainwashing Robots
Accidents Happen
Mark of Retribution
Oh the Memories!
Garage Fail
A Clothes Call
Ware Are We?
April Pools
Wool Over Your Eyes
The Big Showoff
Cat Scratch Feverines
Take a Whack At It
Have an Ice Day
Broken-Arted
Breach Racket Blowout
A Penny For Your Thoughts
Polter-Heist
Shipment of Pain
Snow-Blinded
Trash Talk
Food Feud
Imperfect Chemistry
Dart Attack
Till Death Do Us Part
The Pipes Are Calling
Cologne Again
Mad About Glue
Just For Laughs
Surprising Party
Adventures in Babysitting
Oh, Baby!
Wishing Well Done
Ant-archy
Bonfire Nightmare
From Bath to Worse
Litter Bitter
Shattering Effects
Siblings in Blood
Push It to the Limit
Another Breakdown Episode
Brother's Big Blowout
Fastest Tree Friend in the World
Take a Nose Dive
Like Brother, Like Sister
Kill-ennium
Battle of the Arts
Nerds United
Brace Yourself
Give Me Some Space
Come Dice with Me
A Spectacle of Yourself
Throat Trouble
Scout Ahead
Sweet Smelling and Sour
The Big Three-Oh!
Right Here, Right Now
Lose Your Head
Diary-uh!
Off my Rocket
Oh Say, Can You See That Flea?
Boys will be Girls and Girls will be Boys
All's Fair in Art and War
Bugging Out
Internet Interception
Dream On
Sar-Chasm
Heroes or Zeroes?
United Europe
Smart-Phony
Sucks to Pay
Lemonade Just Got Colder
How's That Even Possible?
Scam and Eggs
First and Fort-most
Moose of Oz
Show Me the Big Picture
Eye to Eye
Dull Like Me
Insult to Injury
Children of Jotunia
What's So Great About This Britain?
Friendship is Arty
Bad, Bad Bunny (Part 1 & 2)
Re-Wedded
Two by Two
Mascot in the Act
Can You Dig It?
Special Features
Community content is available under
CC-BY-SA
unless otherwise noted.