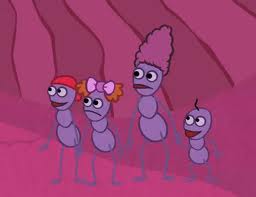 This is a page in a fanon site. For information about this character from the actual show, click here.

The Ant Family is a family of ants who are often targeted by Sniffles, who plans to eat them. But they usually get revenge by torturing him sadistically, and have caused him some of the most gruesome deaths in the series.
Trivia
It is unknown what happened to the father of the ant family. It is possible he was killed by natural causes, died in the war, or was eaten by Sniffles (maybe that's why they hate Sniffles so much).
Sniffles is the only character to see or get killed by the ants. Other characters have been in some of these episodes, but didn't seem to notice what was happening.
Sniffles started the war between ants and anteaters. He traveled back in time and ate an ant, causing a prehistoric anteater to eat an ant which was once his friend.
In the canon series, the ants have not died (unless counting Blast From the Past) and have only killed Sniffles. However in the fanon series, they die more often and kill other characters (e.g. Cuddles and Josh).
Gallery
Community content is available under
CC-BY-SA
unless otherwise noted.