Bases are images used to create characters.
They show a blank character outline in a certain position or situation. The image can be edited and colored to match a character in that scene.
Below is an example of a base: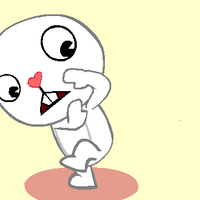 Make sure you obey rules set by base creator (if any) and please give them credit for making the base (you don't have to ASK them for permission you just have to say who the base was created by).
2D images
FEEL FREE TO ADD A BASE (50 images per set).
Sets
Others
3D models
These bases are different. While merely editing the textures can be done similarly to the 2D images, editing the models themselves require the use of a 3D modeling program (Autodesk 3ds Max, Blender, etc.). Only attempt using these bases if you have at least a basic knowledge about how 3D models work.
When adding a new 3D HTF base, please use the list below. Make sure the link leads to the download of the model (not the preview/rendered image, unless the direct download link itself cannot be simply copy-pasted). Wavefront .obj files complete with mapped textures are highly recommended.
HTF 3D Base by HTFMegaman (DeviantArt page, click the "Download" button to actually get the model)
3D HTF Base by MattDet (for Trimble Sketchup 2017 and newer, downloads in the Sketchup .skp format, can also be downloaded in Collada .dae format) (requires sign-in to download starting from October 2019)
Community content is available under
CC-BY-SA
unless otherwise noted.