Bon is an exclusive character in regular HTFF.
Bio
Bon is a dog skeleton who appears in fancy and classy, also appears to be a polite person. Bon wears a top hat most of the times and with his black cane. There're gold glows inside his skull that act like his eyes(actually it's). 
Bon, despite being a skeleton who always appear in night time, he doesn't want to scares anybody around him and also meet them in very good manner. He acts very polite to other characters and make sure he doesn't scares them. Also, trying to impress them with vintage things or old music, especially with girls.
Bon enjoys some classical music and even plays them. Owns a saxophone or any brass instruments and plays them in midnight at the high place so anyone can see and hear his performance. He lives inside the small old mansion with full of vintage stuff. He also flirtarious towards females but he still show his huge loyalty towards his beloved wife.
Since he's only living skeleton, he might can't hold some heavy stuff or something that can breaks his bones easily. He often forgot most characters around him are not living skeleton, and also forgot they can be wounded. Also, he might have problems with someone or animals who like bones. He seems like bones too as he actually a canine. 
It's revealed in Moment in Time, he's actually lived during 1930s era and had a poodle wife. He seems very loyal and loves his wife, seems never arguing each other. After the event in Dead Over Heels, he finally meets and together with his wife again.
Episodes
Starring roles
Featuring roles
Appearances
Deaths
Prior the series/Moment in Time - Died in car crash and revived as a living skeleton.
Dying To Know - Crushed by a stalactite (revived as a skeleton again).
Kill count
Trivia
Gallery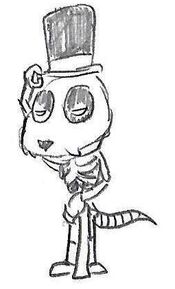 Click here to view this page's gallery.
Community content is available under
CC-BY-SA
unless otherwise noted.