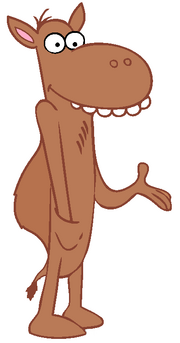 Bumpy is a fan character.
Character Info
Bumpy is a red-brown camel. Bumpy usually does tasks such as carrying people and their belongings to destinations. He tries to be as helpful as possible in spite of his less-than-bright intelligence. He can survive longer in most places where other characters would quickly perish. He usually works at the airport (carrying luggage and because he likes to travel) and can be a personal taxi. He also likes water, relaxation, heavy lifting, and travelling.
Episodes
Starring
TBA
Featuring
Appearances
TBA
Gallery
Trivia
He is a lumpy-sue, but according to the writers, he has down syndrome and is actually 2x smarter than Lumpy.
He was submitted by User:Lord O' Darkness in a character contest.
Community content is available under
CC-BY-SA
unless otherwise noted.