Cap is a HTFF Character.
Character Bio
Cap is a brown capybara with a rectangular head. Cap is constantly trying to fit in with the rest of the town, the main reason being his odd-looking head. He has trouble wearing most hats (even his signature cap is known to slide off his head) and can become a target of ridicule.
Another reason is that he has a bland personality. He usually looks for jobs to set an identity for himself. Unfortunately, he tends to screw up due to his slight incompetence and low self-esteem. Since his eyes are at opposite sides of his head, he may not see when something is in front of his face.
Episodes
Starring
Featuring
Appearances
Deaths
Rotten Potatoes - Killed by mutated potato.
Thief Next Door - Shot by Quartz's quills.
Pads Out of Water - Melted to death.
Spark Something Off - Burned (debatable)
Glowing By Myself - Ran over.
Sand Over Some Place - Shredded to pieces.
You Can Thank Me Paper - Head is cut in half by a pickit sign.
Behind the Stage - Dies from the blood lose and broken bones.
The Hospice Project - Ran over by a wheelchair.
Hop Sweet Home - Sliced to pieces by wires.
Nothing New Under the Boat - Crashed into the tree.
Tramped Cards - Face sliced off by a card.
Injuries
Snow Where You're Going - Both of his eyes shot by water and lemon water.
Face Closed - Stung in the eye by Buzzles, hit by Handy's truck, gets plastic surgery, punched by Disco Bear, and is sent straight into a trash can.
Tramped Cards - Both of his feet being sliced off.
Kills
Trivia
Gallery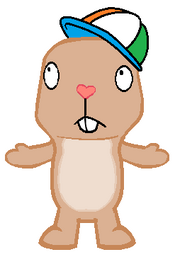 Click here to view this page's gallery.
Community content is available under
CC-BY-SA
unless otherwise noted.