Clumsy is a gray raccoon. He was named after his clumsiness, usualy causing his deaths and others' deaths. He wears an olive green jacket and a scarf.
He does not appear in Happy Tree Friends: Worlds Collide!, but appears in Happy Tree Friends: Parthers Colide under Evil Flippy's curse. Clumsy also appears in Truffles' Revenge.
He appears to have a relationship with Petunia, often leading to her deaths:
In "Another Day Another Don't", he suffocates her by kissing her for a long period of time, blocking her air.
In "Under the Sea", he kisses her, but she can't move, causing an orca to eat her.
He has not survived in any episodes yet.
Starring Roles
Spin Fun Knowin' Ya
​Featuring Roles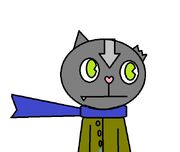 Deaths
Spin Fun Knowin' Ya - Collides with a tree, breaking his back.
Ice Cream, You Scream - Stabbed in the brain with a broken bottle.
Truffles' Revenge - Shot in the head.
Not So A-Maze-Ing - Impaled on spikes.
Love Interests
Kills
Community content is available under
CC-BY-SA
unless otherwise noted.