Coral Reef Friends is a spinoff made by MMB The Coolest, because of his interest in aquatic species. The main cast of the show are mainly fish or characters who can live underwater.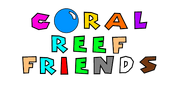 Most of the episodes involve the characters having done regular tasks around the ocean with each other. A lot of the characters appear in this spin-off, though a few may appear in the main series, other series, etc. If a character from another spinoff can handle water (i.e. Fiji, Tide), then they may appear sometimes.
There was a bit of a time frame when MMB The Coolest quit and he handed the series over to The Flying Pie. He took it back because TFP is inactive, but MMB made it so anyone can contribute to the series.
Many of the characters are fish or aquatic species, though some are mutants. One of the characters is also apparently a human in a diving suit.
Characters
Main
Not for Profit
Finner is an orca who is proud of having the skill of surfing, and has a love interest in Manette (not in CRF). he usually dies by either getting himself impaled by his surfboard, drowning uncontious or getting burned. Finner is a new character in the show, meaning he has not appeared in a episode (yet).
Background Characters
Generic Reef Friends are random characters who take on multiple personalities and aquatic species. Young GRF's are often found in schools.
Cameo Characters
Gallery
Theme Song
A book is shown to be opening, decorated with shells that spell out "Coral Reef Friends". Then, the underwater city pops open like a pop up book, followed by the creator and developer names with letters in bubbles. Then the book closes and a hand grabs it, revealing the book to be laying sideways on a fish tank, and the camera tilts slightly, zooms in, and the characters do an idle in the bed of aquarium sand.
Click here to see the Character Pop-Ups.
Episodes
Seasons
Season 1
Fisher's Day: It's fishing day, and the main fishing targets get revenge on the fishermen.
Reef Sale: Sparkle finds out his parents are hosting a garage sale.
Battling Seafriends: A battle between Hingy and Quacks goes under way.
We'll Never Be Oil: An Oil Spill affects the habits of the Coral Reef Friends.
Pungent Sponge: Overbite mistakes Spongy for cheese and eats him. Now Spongy regrows - inside the shark's body!
Undef-eatable: A shortage on food leaves the Coral Reef friends at the bottom of the food chain.
That's a Stinger!: Stinger gets more than he bargained for when he decides to bully Chuckly.
Brain Mush: Mush takes over the world with his army.
Scaredy Squid: Oily has a nightmare, and doesn't want anyone to know about his fear. (Halloween special)
The Urgent Urchin: Urgent tries to run errands, but finds a solution to make things faster.
Diver Dozen: Unfortunately for the CRF's, Splashy is looking for them to turn them into seafood.
Soda Pop Stopped: A six-pack ring causes trouble in the habitat of the Coral Reef Friends.
Claw Massage: Claw tries to be a masseuse. There are more deaths than there were happy customers.
Stuntflush: Blasst jumps over a pile of toilets as a stunt, but misses and gets stuck in one of them. 
Chuckle Nuts: Laughy tries the classic eel-in-a-can-of-seanuts prank with Teary, and now he wants to kill him.
TBA
TBA
TBA
TBA
TBA
TBA
TBA
TBA
TBA
TBA
TBA
TBA
TBA
TBA
TBA
TBA
TBA
Season 2
Caviar or Can't: In the Season 2 premiere of CRF, Sparkle steals some eggs from a nest after mating time after he hears that some caviar are worth a lot of sand dollars. However, he is unable to protect it himself, and one gets lost. Luckily, Delicious finds one of the caviar.
Holey Mackerel: Mackey tries to start a new religion where HE is the god.
Special
Love Bites
CRF Breaks
Fan Versions
Gallery
Trivia
In a few episodes, you can see a generic normal-colored goldfish with three eyes. This is a reference to The Simpsons.
Community content is available under
CC-BY-SA
unless otherwise noted.