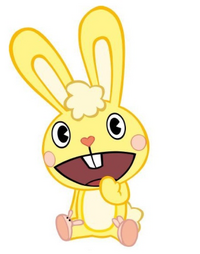 "Caring and sharing is cause for charming cheers!"
-Alliteration for canon Internet Seasons 3 and 4
This is a page in a fanon site. For information about this character from the actual show, click here.
Cuddles is a yellow rabbit who is dangerously mischievous and self centered, which often leads to both his death and other characters' deaths. On the other hand, he is mostly friendly and caring, making his personality more complex than the others. Sometimes he can be mischievous, like in A to Zoo. He is often depicted as being best friends with Toothy and is usually seen in a romantic relationship with Giggles. Cuddles works for NAZUH. He is set to appear as the a supporting protagonist in The HTF Movie.
Trivia
Cuddles is one of the few characters to go out with another canon character.
Cuddles is one of the playable characters in Happy Tree Friends Adventures series. He's also often used as the icon for the games (except for the Origins and Gameboy ones, which uses Lemy for the icon and a generic tree friend for the icon, respectively).
His quote in his starring/featuring role pop up in season 6 intro says: "I love this thing!".
Cuddles currently has the most deaths of any canon character in the series. In the fanon, however, Trippy and Josh have died more times then him.
In Fan Version 3 episodes, he takes Giggles's place.
Recently he got a new girlfriend temporarily, 97G.
Fan Suggested Theme Songs
Beverly Hills by Weezer (he wants to be famous some day)
Let it Rock by Kevin Rudolph ft. Lil Wayne
Rock n Roll by Avril Lavigne
Grow Up by Simple Plan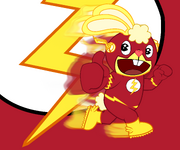 Gallery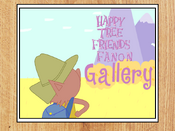 Click here to view this page's gallery.
Source Links
lovely-delphine-htf (deactivated account)
cutie-coal (deactivated account)
repetitivesoundwave (deactivated account)
applejack-lover-fan (deactivated account)
AleEvilSoldier (deactivated account)
Community content is available under
CC-BY-SA
unless otherwise noted.