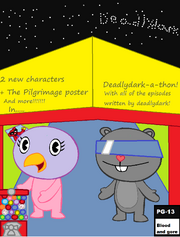 Deadlydark-a-thon
is a DVD. It has all of the episodes that have been written by Deadlydark. It is also available on VHS (For some reason).
Episodes
Special features
Two new characters: Wings and Visor!
A poster for The pilgrimage!
An interview with Tulip!
Sly's CTA!
Splicer action figure!
HTF break: Fruity Goodnes!
Kringle: Candy Cane Kringle!
Love Bites: Light Love!
Additional Deaths
On the DVD, Tulip is  disemboweled.
On the back cover, Split is impaled.
Trivia
The stars spell out "Deadlydark".
Gallery
Community content is available under
CC-BY-SA
unless otherwise noted.