Germy
is a fan character.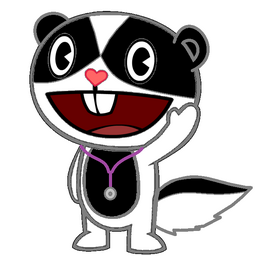 Character Bio
Germy is a black and white badger (like Velo and Buckethead). As his name prescribes, he likes to study germs and pathology. He is often seen with Doc who is also a medic. He sometimes tries 19th and 20th century medical methods like anesthetics and antiseptics when he performs surgery. He went to medical school when he was a young adult and was in the same class as Doc.
Episodes
Starring Roles
Featuring Roles
Appearances
Deaths
Don't Spread Your Germs - Killed in snot bubble explosion.
Brace Yourself - Sliced by Fizzles. 
Throat Trouble - Impaled by tongs.
Meanie Meets Medic - Beaten to death.
Two by Two - Kicked through the head.
Watch your Back - Stabbed by a needle.
Whale of a Tail - Smashed by The Whale's tail.
Noc Doc - Strangled by Noc Noc.
Rhino-Plasty - Flattened by an ambulance.
Quack Under Pressure - Smashed by a door.
Choking Facts - Crashed against a street sign.
The Hospice Project - Slowly burned to death.
To Surgery, with Love - Heart bursts out of body.
Steamed Punks - Decapitated by stethtoscope.
Trivia
In his spare time, he likes to study medical history.
Germy is the third badger character in the series. The other previous ones were Buckethead and Velo.
His Survival Rate is 71.74%.
Gallery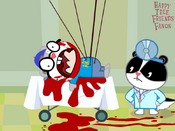 Click here to view this page's gallery.
Community content is available under
CC-BY-SA
unless otherwise noted.