Gloomy is a fanon character of HTF.
Character Bio
Gloomy is a grey vampire bat whose dark hair covers one of his eyes. He wears a black hoodie with bat wings under the sleeves.
Gloomy is a troubled character who feels as if the universe hates him. His depression borders on suicidal tendencies; but whenever he tries to kill himself, he ends up surviving the vast majority of times. His apathetic disposition means the concept of death does not faze him.
Mysterious, shy and usually keeping to himself, many grow inclined to make speculations about him. Particularly, people will assume he is a vampire. Things especially get dangerous when monster hunters or paranormal investigators come around. Gloomy generally tries to ignore these claims with a scowl, but if put in jeopardy he will simply take it.
Chances are slim that Gloomy is an actual vampire; more likely he is a regular vampire bat victimized by stereotypes. That said, he has two distinct bite marks on his neck (given by Solaris) and a severe allergy to garlic. He also despises sunlight, though being nocturnal it isn't as conspicuous.
Episodes
Starring Roles
Featuring Roles
Appearances
Fates
Deaths
That's Gonna Costume! - Crushed by anvil (revives).
At Death's Door - Decapitates himself (revives).
What's Sad and Done - Ball hits through his torso.
Gloomy New Year - Possibly dies when the clock tower explodes (debatable).
The Big Three Oh! - Killed by Flippy's bomb.
Gloomio and Juliet - Hangs himself.
A Millennium of Unfortunate Events - Dies when fireworks hit him.
Idol Worship - Frozen solid (debatable).
A Jynx Into Past Events - Ran over by a truck (revives).
Injuries
Smoochie 2 - Set on fire.
Breach Racket Blowout - Cuts his arm with a staple.
Being Patient - Injured by unknown cause, knocked unconscious.
The Extreme Team - Recieves burns. 
Light as a Weather - Hit by meteor.
Emo G - Face torn off, pierced and shot.
Cheers for Tears - Face destroyed (then reconstructed).
Kill count
Trivia
Gallery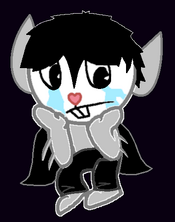 Click here to view this page's gallery.
Community content is available under
CC-BY-SA
unless otherwise noted.