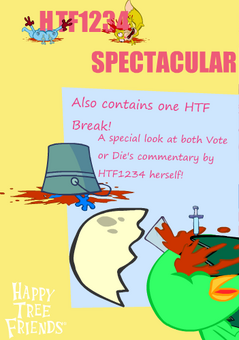 HTF1234 Spectacular is a fan made DVD featuring the debut episodes of HTF1234's characters. It was made to show thanks to HTF1234 for all her work on the wiki.
Episodes
Special Features
One HTF Break:
Special look at both Vote or Die's commentary by HTF1234 herself
Extra Deaths
DVD cover: Hatchy is impaled by sharp items, Kibble is forced into his bucket. Chroma is crushed hy the letter H and Foxy by the number 4.
On the DVD menu: Squabbles and Softy are crushed.
Episode Select menu: Senior is crushed by a safe and the idol smashes Stretchy's skull.
Special Features menu: Froggy and Cappy, in a red bull hat, are crushed by the menu.
Community content is available under
CC-BY-SA
unless otherwise noted.