HTF Naughty or Nice is a bonus feature in A Jolly Happy Soul.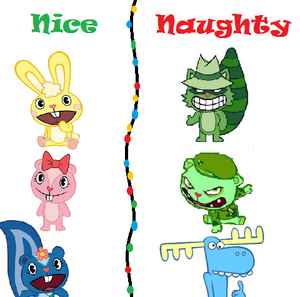 This feature shows Santa's nice list and naughty list (as well as a neutral list) and reveals the characters whose names appear in them, with Santa's commentary. It references all canon characters as well as some fanon ones.
Nice
These characters have been good boys and girls all year long and certainly deserve presents. Ho, ho, ho!
Cuddles - Never kills intentionally, never brings his jokes over the top.
Giggles - Helps the environment.
Nutty - Tries to help.
Petunia - Completely sanitary.
Handy - Achieved the impossible.
Flaky - She never wants to kill.
Cub - He never did anything bad.
Mime - Good performer,
Russell - Never finds treasure by stealling.
Josh - I like his big pictures, especially his big picture of me out of London lights.
Trippy - Dumb yet good of heart. 
Superspeed - Same as Trippy.
Juliet - She helps everyone and her friends
Gloomy - He could use some cheering up.
Lollie - I like her gummy bears, they are yummy.
Gary, Larry, Mary and Clary: Nice kids, they always play nice and do their homework...

Lucy Clover

- Always helping everyone.
Ludwig - Good rapper.
Erica (Jayden) - Definitely delivers lots of presents to the boys and girls who are sick.
Sakura (Wii Sports) - shares her baseball bat with her new friends
Verbonden - Never intentionally hurts anyone.
Naughty
Trouble-makers who deserve nothing but coal. In case you may be wondering why, I've listed the reasons why.
Neutral
These I cannot quite determine. They may be good or may be bad, and I don't know what to send them for Christmas.