HTF Naughty or Nice
is a bonus feature in
A Jolly Happy Soul
.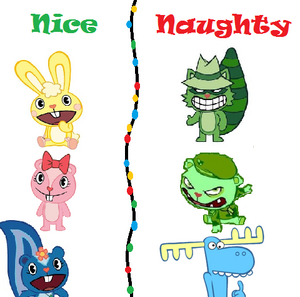 This feature shows Santa's nice list and naughty list (as well as a neutral list) and reveals the characters whose names appear in them, with Santa's commentary. It references all canon characters as well as some fanon ones.
Nice
These characters have been good boys and girls all year long and certainly deserve presents. Ho, ho, ho!
Erica (Jayden) - Definitely delivers lots of presents to the boys and girls who are sick.
Sakura (Wii Sports) - shares her baseball bat with her new friends
Naughty
Trouble-makers who deserve nothing but coal. In case you may be wondering why, I've listed the reasons why.
Matt (Wii Sports) Boxing people down and blaming it on Itchy
Neutral
These I cannot quite determine. They may be good or may be bad, and I don't know what to send them for Christmas.
Community content is available under
CC-BY-SA
unless otherwise noted.