"A happy home has all the right hardware for any happenstance!"
-Alliteration for canon Internet Seasons 3 and 4
This
is a page in a fanon site. For information about this character from the actual show, click 
here
.
Handy

Accomplishing activies that need hands without hands since 1999.
Gender:
Male
Interest(s):
N/A
Species:
Beaver
Color:
Orange
Relatives:
N/A
Age:
N/A
Size:
N/A
Friends/Allies:
Lumpy

Giggles The Mole Cuddles Flippy Sniffles Russell

Enemies/Rivals:
Disco Bear

Lifty Shifty Fliqpy Nutty

Love Interest(s):
Petunia
Kill Count:
N/A
Deaths:
Internet: N/A
TV: N/A
First Appearance:
House Warming
First Victim:
Flaky
Happy Trails Part 2: Jumping the Shark (Canon)
First Death:
Wheelin' and Dealin'
Handy is an orange beaver with unexplained amputated hands that are covered with bandages. Handy is a construction worker and usually wears a tool belt and a hard hat. His house mostly consists of tools that are operated by hand. His best friend's name is Lucly. He is also a childhood friend of Fidget, who witnessed the incident that led to the loss of his hands. The fanon episode Short Hand Story reveals how Handy lost his hands. He is set to appear as a supporting protagonist in The HTF Movie.                 
Trivia
He is one of the three handicapped characters, the other two being The Mole (blind) and Lumpy (mentally challenged). They have been described as no hands, no eyes, no brain.
He has a girlfriend who is a female beaver named Lamana.
He is one of two characters to have epilepsy, the other is Cuddles.
Handy is the first to die in season 1.
Handy made a small appearance in HTFA 6, where he, along with Lumpy, Pop, Cub, Yoshi, Neena, and Tacho, say farewell to the heroes. He also made a small appearance in HTFA 7, in the options screen.
Handy has a brother named Footy.
He will be equipped with prosthetic hands in Farewell A332 series.
89Q is one of his best friend because he is a big fan of aviation. He can control a commercial plane thanks to his assistance.
Gallery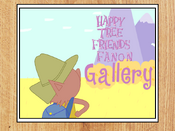 Click here to view this page's gallery.
Source Links
happytreefriends97 (deactivated account)
AleEvilSoldier (deactivated account)
Community content is available under
CC-BY-SA
unless otherwise noted.