Welcome to Happy Tree Friends Fanon Wiki
Happy Tree Friends Fanon is the fan fiction wiki that allows YOU to create, write, interact, and much MUCH more! Remember to have fun and keep things nice and fair, alright? Well...what are you waiting for? Start creating!
Featured Character...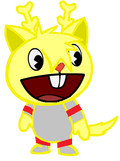 This month's featured character is...Lime! Lime is a 14 year old light yellow unknown animal. He is a good and happy character who has befriended many other characters in the series. He has antlers, a dog tail, wolf ears, a red nose, and a Hole in the Wall participant outfit (red team). He likes to dance, listen to music (just from the DDR games), play the piano (music from DDR games only), play rhythm games (again, only DDR games, including the ones released on PC). He has a lot of favorite songs, about 130 songs. The problem is that if he wins in the game, he can end up fainting and have seizures.

Wanna decide next month's featured character? Now you can! Click here!
Polls
Who's your favorite character that appears on the wiki's banner?
Now that Christmas is over, whatcha' got planned for new years? :)
Top Editors
Events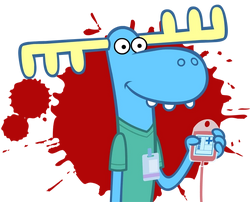 Blood Beg
Link to physical merch store
Link to digital content store

Still Alive may be a flop, but the crew is still open for business. Support the show by buying their stuff! For iOS owners, how about participating in Deadeye Derby?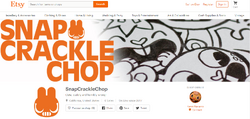 Want to Purchase Kenn's Illustrations?
Direct link to purchase

Click the link up above to be sent to the online store, and buy all of Kenn's drawings!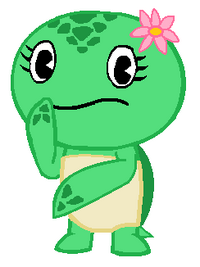 Featured Character
Dive deep and immerse yourself in the seas. Maya might be interested in what you discovered.
Fan Fest
Playlist link.

This month's fan fest is a playlist by Cataxx Alt!

This playlist features a few HTF TV episodes... but with only the voice acting remaining. Those going after additional resources for HTF character voices can check this channel out!
Rules Revision, Please!
Please, please, please... visit this thread to fix up any bothersome rules! Don't worry, all users are welcome to contribute and share their ideas!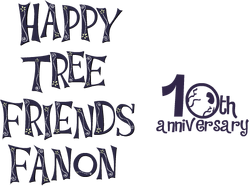 Blast from the Past!
The Happy Tree Friends Fanon Wiki Official History blog is available! Take a look at how the wiki started, what helped shape the wiki up, and secrets you probably didn't know! Click here to view!
Updates
UPDATE Happy 10th anniversary, Happy Tree Friends Fanon!
EVENT Want your fan character to star in their own Smoochie yet you lack the idea or execution? Check this blog out!