Welcome to Happy Tree Friends Fanon Wiki
Happy Tree Friends Fanon is the fan fiction wiki that allows YOU to create, write, interact, and much MUCH more! Remember to have fun and keep things nice and fair, alright? Well...what are you waiting for? Start creating!
Featured Character...

This month's featured character is...Vanilla! Vanilla is a pale-yellow wolf with a darker-yellow tail tip. She has long, black hair, a dark blue hoodie with the hood down with a dark red pocket and tassels, and dark brown pants. She is very stupid and easily confused, although is not as dumb as Lumpy. Despite being 13 years old, she acts mentally much younger, and some others mistake her being younger. If she is confused, she will usually say, "....I don't get it."

Wanna decide next month's featured character? Now you can! Click here!
Polls
Who's your favorite character that appears on the wiki's banner?
Now that Christmas is over, whatcha' got planned for new years? :)
Top Editors
Events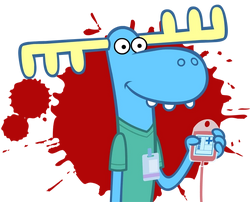 Blood Beg
Link to physical merch store
Link to digital content store

Still Alive may be a flop, but the crew is still open for business. Support the show by buying their stuff! For iOS owners, how about participating in Deadeye Derby?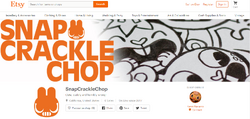 Want to Purchase Kenn's Illustrations?
Direct link to purchase

Click the link up above to be sent to the online store, and buy all of Kenn's drawings!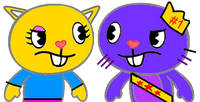 Featured Character
Treasure your sweetest moments with Todd and Winifred. Make every lovely memory count.
Fan Fest
Channel link.

This month's fan fest is the channel 1000Piazzia, one of the old YouTube channels dedicated to HTF. In this case, it used to repost various HTF fan animations from Nico Nico Douga! If you're curious about the Japanese fandom of the show, check this channel out for a start!
Rules Revision, Please!
Please, please, please... visit this thread to fix up any bothersome rules! Don't worry, all users are welcome to contribute and share their ideas!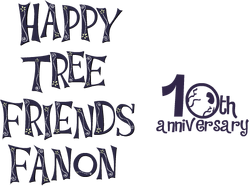 Blast from the Past!
The Happy Tree Friends Fanon Wiki Official History blog is available! Take a look at how the wiki started, what helped shape the wiki up, and secrets you probably didn't know! Click here to view!
Updates
UPDATE Happy 10th anniversary, Happy Tree Friends Fanon!
EVENT Want your fan character to star in their own Smoochie yet you lack the idea or execution? Check this blog out!
Community content is available under
CC-BY-SA
unless otherwise noted.