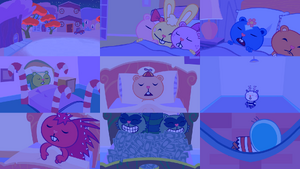 Happy Tree Friends ASMR
is a soothing video by NemaoHTF consisting of twelve sleeping HTF characters. It aired on
his YouTube channel
on July 13, 2017. It gained 1000 views in just one day.
Characters in the Video
This was an anonymous user's Patreon-request. He originally requested all of the main characters to be in the video, but then he regretted it because it would give Nemao a heavy load. He therefore chose 13 characters, and he had reasons for requesting certain characters:
Nutty and Cub, Nmcconnell's favorites
Mime, Adam Carter's favorite
Handy, Zrenj's favorite
Russell, Lifty and Shifty, for Sabrina.

Sabrina ended up asking why Flippy (another character she wanted to see sleep) wasn't there. However, Nemao already has a sleeping Flippy in his 2K subscriber special. A similar thing holds for Splendid.
Gallery
Trivia
If you're wondering why the video has 12 characters when the userchose 13, it's because he chose Jordan K for adoration from the user Jordan K; but Nemao neglected him from the video.

On the other hand, Nemao announced that in mid-September, he would make a new video with the rest of the characters sleeping. This did not happen in September, though it did occur in March 2018.

Petunia and Handy's sleeping positions are similar to Danny and Sammy's in April Fool's Day 2 when they are sleeping in their beds.
Possible Faults
Flaky and Cub are in identical beds.
The position of Flaky's quills.
Community content is available under
CC-BY-SA
unless otherwise noted.