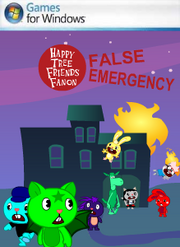 Happy Tree Friends Fanon: False Emergency is a 3-D fan game starring some HTFF characters. It is a sequel to False Alarm, the official HTF video game.
Playable Characters
Cutscene Characters
Levels
Tutorial
Help Ale get to the end of the course. Her special attack is Flip-Out Mode. Ale can jump higher than others. Avoid big shredders and knives.
Level 1: Double Trouble!
Playable
Play as Buck and Chuck to get through the falling knives. The Brothers can double jump with Buck on top of Chuck.
Level 2: Rapid Rabbits!
Playable
Play as the 3 rabbits, as they are on Rapid Mode as a rabbit version of Flip Out Mode. Avoid big pool of poisonous water.
Level 3: Porcu-FINEs and Head-hogs? 
Playable
​Play as the 3 porcupines and hedgehogs. Use Toad for a roll attack. Use Pierce for his punching strengh. Use Flicky for her impaling quills.
Level 4: One Hedeghog from Another?
Playable
Play as Toad in a rolling maze which is really hard that it's impossible to beat!
Level 5: Slide
Playable
Based on the episode Let Me Slide and Let It Slide, you are on a curly and unstopping slide until the very long end of the slide. Use Toad or Guddles to slide, press the red A to flop on broken parts.
Level 6: Leave it to the Artist
Playable
Help Josh get to the end of the level. Josh has a special which is Paint Bridge where he splashes paint over a gap to form a bridge.
Level 7: The Mystery
Playable
Toad is looking for the one to prove who's guilty for pulling the alarm. It was Pierce. Everyone chases Pierce and kills him in the end.
Trivia
The game is Rated M.
The game is for Playstation, PC, DS, and 3DS.
Community content is available under
CC-BY-SA
unless otherwise noted.