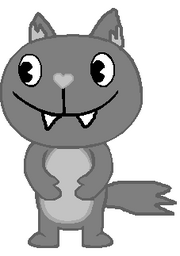 Howl is a fan character.
Character bio
Howl is a grey wolf with a light grey belly marking. He has two fangs sticking out of his mouth. His tail has three tufts unlike most other tree friends who are wolves or foxes. Also, unlike most other characts who have a heart-shaped nose, his nose is grey. In his flipped out form, he has red eyes and larger teeth.
He is a fun-loving wolf. He has lots of friends. The four most notable friends are Luna, Handy, Lumpy and Meatzy. 
Deaths
Dead Over Heels - Crushed by a branch.
Injuries 
TBA
Howl's episodes
Starring roles
Featuring roles
Appearances
Trivia 
Whenever Howl sees the full moon, he flips out like Flippy.
Howl and Rosa are great neighbors.
Howl replaces Toothy in fan version episodes.
Gallery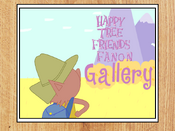 Click here to view this page's gallery.