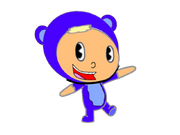 Kid is a fan character.
Bio
Kid is a peach human who came from the real world. He wears a blue bear costume. He acts more like an adult than a child. Kid is also an anti-smoker, and hates people who smoke, like Pop.
Kid's episodes
Starring roles
TBA
Featuring roles
TBA
Appearances
Fates
Deaths
Movie Night: Crushed by the teddy bear monster's foot. (in-movie)
Injuries
TBA
Kill count
TBA
Trivia
There is another fan character named Kid.
Gallery