Leilani or Leila is a character of HTFF.
Bio
Leilani or mostly called as Leila is a light green badger with enthusiastic attitude, but also seems silly and a bit unintelligent. She wears a hula outfit, seashell necklace and a hibiscus on her hair. Her whole appearance appears to be a Hawaiian.
Leila is shown having an intense enjoyment and curious about the stuff she meet. She would checks the person she met and assumes that they are her best friend. She also eager to show someone her stuff and even forcing them to see it by pulling and grabbing them into it. Leila would help someone she meet, but always do it aggressively. She seems like to hugs and pokes other people randomly, also always appears out of nowhere too.
Leila is pretty good at woodcrafting or wood carving and loves doing it. She mostly doing it for decoration or gift for someone she meet, doesn't care if it weird or broken. She also likes collecting some useless and weird stuff, like sands and stones. She always uses random stuff she found to do her work other than real tools. She would carving some woods she found in any place.
She actually doesn't know about dangerous stuff and other people's fate(injuries and death). Leila also always misunderstood some stuff as she would think it's good, even making it worse. Also collects the remains of someone as her collection she found and for "decoration" too.
Episodes
Starring role
Featuring role
Appearances
Deaths
Here Comes Bubble - Head ripped in half.
Injuries
Kill Counts
Trivia
Gallery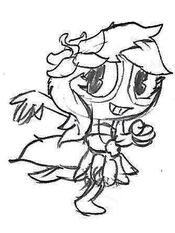 Click here to view this page's gallery.