Mocha is a character of HTFF.
Bio
Mocha is a mocha/brown dog or corgi who is being hyperactive fangirl all over the time. She wears a headband with #1 written on it and a pair of sandals. She often seen wears a foam hand with random person's name written on it, which shows her being a fan of the person.
Mocha is shown aggressive and hyperactive person most of the time. Her most known trait is she being an extreme fangirl of random person she meet and supports them as much as she can. Her interests always changing, as she gonna supports another person.
Being a fangirl, Mocha always gonna do anything and gives the extreme support the the person that she has a strong interest in. She also wanted their attention and always gonna follows them. Mocha is not shown on hating anyone too, but she seems heavily dislikes if someone hating the person who's she being a fangirl with.
Mocha seems can loses her interest of a person very quickly sometime, then proceeds to another person who she finds more interesting(she choose random person anyway). She even have a collection and stuff related to the person she likes. Some characters might found her annoying, even to the person she's rooting for. Mocha always causing trouble due her being an extreme fangirl.
Episodes
Starring
Featuring
Appearances
Deaths
Within a Wheelchair - Sliced to pieces by the plane remains.
Injuries
Kill count
Trivia
Mocha is basically inspired by Bracelety from BFB, but Mocha always rooting on random person in each episode she appeared in instead of one.
Despite always being a fangirl to random person, Mocha actually knows which person is bad and which person is "normal".
The person's name that she likes often written on her headband with #1 next to it. This same goes to her foam hand.
Mocha is not gonna stalking someone she's like quietly, also she's trying to not get into their own privacy.
Mocha never seems interested in superheroes and never becomes a fan of them (for example, Splendid).
Gallery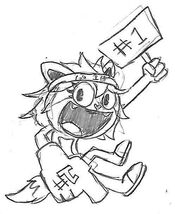 Click here to view this page's gallery.