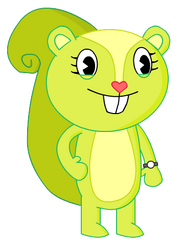 Layla Sweet is the mother of Nutty and the adopted mother of Music, and is a yellow-green female squirrel who is extremely bright and caring. She loves Nutty very much, but has simultaneous sympathy for the other main characters of HTF as well. This happened since the HTF parents were separated from their sons and daughters, and mostly interacted with each other instead. She stands up for mean actions and is willing to commit desperate measures at desperate times. Currently, she is seen with a wristwatch on her left wrist.
Trivia
She is, like Pop and Giggles' Mom, the parent of a main character. However, she doesn't have Pop's level of low intelligence.
According to fiction, she gains the nickname "Article Shine" in December 2025 because of her actively reading the news.
She has a half-sister Haley (they have the same mother but different fathers), who made her first appearance in WHHBOLH Part 3, then was later seen in CATFHTLFSH putting a sleeping Nutty to bed.
Possible Faults
Decision of clothes/apparel is being held.
In her profile, there is whiteness between her left arm and her body.
Community content is available under
CC-BY-SA
unless otherwise noted.