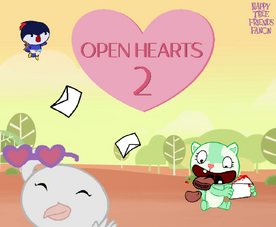 Open Hearts 2 is a DVD containing episodes themed on Valentines' Day. It is a sequel to Open Hearts, thus making it the first holiday miniseries outside Specy Spooktacular to have sequels.
Valentines Nicknames
Lord O' Darkness - Love O' Darkness, Lord O' Hearts
Purplecupcake1345- Purple Hearts, Cupcake Hearts.
Yellow-spider-kitty- Yellow-Sweetheart, I-Should-Have-Brought-You-Flowers
Justinsz - Justonekissz, My Szpecial Lil' Szweetheart
MMB The Coolest - MMB The Cutest, D.A.D. The Coolest
Episodes
Intros
TBD
It'll take a while to fix this...
This page is currently under construction. It is expected to be completed by the creator at some point.

If your article is not completed within a month, then please explain to an admin why or it will become a stub. We will NOT delete your article unless you ask us to.
Bonus Content
Bonus Episodes