Paws is a female Genericaling that takes the fourm of a purple lynx. She is a witch in training and the apprentice of Sunset, and the third youngest of the Davis family.
Bio
Paws was once a normal girl until she got into a freak accident that literally changed her life.
She feels like an outcast and wishes she felt like she belonged, despite this, she does a fair amount of friends.
Personality
Paws tends to act very curious and cocky, although sometimes shy. She is psychically really weak and tends to be the butt of the joke at times. She does have her fair share of mood swings, as sometimes she's annoyed and frustrated, other times she's sensitive and frail, depending on who's annoying her.
She does have her special inserts, these include but are not limited to cleaning, dolls, nature, cats and watching horror movies.
Changes
Pre-Debut
Paws has no clothes.
Paws has ruffled checks
Paws' hair is the colour of her fur.
2015-2017
Paws' checks are removed.
Paws gains brown hair.
Paws gains glasses, black pants and lime shirt.
Paws eventfully has a wheelchair to move around.
2018 - 2020
Paws' hair becomes light purple.
Her fur is more purple-blue.
Her shirt is lighter purple.
The tops of her hair and ears have stars on top.
Paws has purple leg braces that make her bipedal again.
2020 - now
Paws' hair is cut, from a self made haircut.
Paws gains a belt.
Her witch outfit stays the same.
Occupations
Police Woman - Paw and Order, Get 'Em Like You See 'Em, Good Rebels, What A Magic, Crime Does Pay, Hat's All, Folks!
Student - Saved by The Bell, Le Petit Lynx, Fire To the Pain
Detective - My Dear Pawson
Garbage Woman- Trashing our Fun
Witch in Training - Little Witch Pawcadmie
Episodes
Starring roles
Featuring roles
Appearances
Kills
Deaths
Noc Nocturnal - Smashed against walls. 
Press Paws - Smashed by soccer ball.
Hangover in There - Splatters.
Where The Sunset Don't Shine- Suffocated.
Scaredy Jack - Impaled by scarecrow post.
Hero Man, Mime Fan - Crushed by rubble.
Paws For the Camera - Face smashed by camera.
Shrike Two - Impaled to Prongs' horns.
Smoochie option 1 - Disembowelled.
Smoochie option 2 - Bleeds to death.
Smoochie option 3 - Head explodes.
Dim Light Paws- Drowns.

Broke the Prize - Hit by a ball and forcing her brain out.

Imperfect Views - Crushed by collapsing stage.

Laugh Paws Laugh- Killed by broken glass.
Best Bud-dies - Crashes into Ellie, impaled to her horns.
Ugly Huggly- Impales by camera.
Super Bat Man - Face scalded.
Get 'Em Like You See 'Em - Killed inside the pile-up.
Wipe Your Paws - Eaten by the Clams.
From The Paws Of Death - Choked by Toothy's optic nerve.
Santa Paws - Soiced by pink glasses.
Trashing Our Fun - Eaten by Scrap.
Usher Raymond - Impaled by a broom.
Clams and Crystals - Impaled by Quartz's quills.
Good Rebels - Crushed by Walter's truck.
Virtual Reality - Ran over.
The Big Squeeze - Killed by Flaky's quills.
Tall Tales - Crushed by giant basketball.
Paw O' Gold - Scalded by melting gold.
Sphere to Stay - Impaled and crushed by Quartz.
This is my Cartwheel song and I'm going to slay it- Skinned and loses blood.
Hive and Seek - Crashed into by a car.
Paws-Ships Were Meant To Flay- Burns to a crisp by the sun.
Fire to the Pain- Sliced by the celling fan.
One Scoob of Ice Cream - Killed by a bomb.
Maypole to Pole - Killed in an explosion.
Everything's Purr-Fect! - Squeezed by a door.
Have a Wool Trip - Head crushed by Angie's sphere.
Toys in the Band - Falls into meat grinder.
What A Magic - Dies in a police car crash.
Crime Does Pay - Splattered into the ground.
Deer Babysitting - Crushed by a train.
Home Sour Home! - Shot by a firework.
Tree Topped - Squeezed by a vine.
A Paws-Less Princess - Has her head impaled by a trophy.
Bad Luck's Path - Strangled to death.
Crushing Cans Kills - Soda can embedded in her head.
Late for Me, Soon for Your - Ran over by a truck.
Beat the meat - Killed when the volcano explodes.
The Incredible Shrinking Paws - Freezes solid and smashed to pieces by meteor.
Gummies For Dummies - Partially eaten.
Sphere Kringle - Face smashed.
Chilly Paws - Killed by a mine.
No Living Clothes - Squeezed inside a shoe.
Snowball Kringle - Crashed by Walter's truck.
Can't Wheel Down - Sliced into pieces by Ellie's ice skates.
Mind in Genercia - Blown by a fireball (revived)
I Hope Your Somewhere, Changing - Implodes.
Good Will Haunting - Impaled by Rafie's beak.
The Tooth About Love - Shredded by Fizzles.
Happy Paw-lidays - Dies in house explosion (offscreen).
Mission ImPawsible - Smashed through the head.
Flying Fox of Tolerance - Killed by Willia.
She Combined Me with Science - Shot by Test Dumby. (Revived in the follow up episode.)
Bubble Bed Blues - Crushed by a gurney.
From Musk to Paws - Crushed by her family's car.
Sappy Tree Friend - Flesh eaten by Glider.
Glass Eyed and Beaver Tailed - Mauled by Jynx.
Trivia
She's originally only meant for a DA spin-off that Yellow-spider-kitty created called "The Sunset Show", however it was changed.
Despite her age, she does have the part time job of a cop.
She looks a lot like Crafty and is possibly even related to her. To make her look different, she was given hair, clothes and glasses.
According to her CTA, She's actually British and was born in UK.
She appeared a few times on the creator's DA before coming an actual oc.
Excluding Raymond who's a trans, She's the first Fanon female with a Blood Fest.
Paws' real parents are confirmed to be dead. Uncle Jagger is her current care giver.
Gallery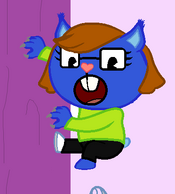 Click here to view this page's gallery.
Community content is available under
CC-BY-SA
unless otherwise noted.