Pete is a minor character in Happy Tree Friends: Partners Collide.
Character Bio
Pete is the world's famous fighter and he's Ginny's older brother. He's 17 years old. He likes fastfood and sports. He's more clumsy than Lumpy and Clumsy.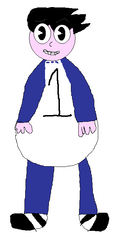 Appearances
Its My Birthday not yours
Night of the were-Tree Friend
Pandemic 2: the startling
The Tattletale of Frankenette
Aliens can control you mind?