Pine Scent
(Pine for short) is a fan character.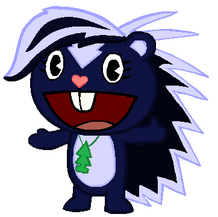 Character Info
Pine Scent is a dark blue & purple-white skunkupine (skunk and a porcupine hybrid).
She wears an air freshener around her neck and usually smells like pine for doing so. Pine Scent is Zelena's cousin. She's upbeat and curious most of the time. However, she releases a foul odor when under stress, much to other Tree Friends' disgust.
It is shown in Pine with Me that she can make her own perfume.
Episodes
Starring
Featuring
TBA
Appearing
TBA
Trivia
Pine Scent is one of the winners in Special Character Contest.
She is not a Petunia-sue. In fact, she likes getting down and dirty at times.
According to Pine with Me, Toad might be a love interest.
She was later redesigned to be a slightly lighter color, as well as having a fringe of hair resembling a skunk's tail.
Gallery
Community content is available under
CC-BY-SA
unless otherwise noted.