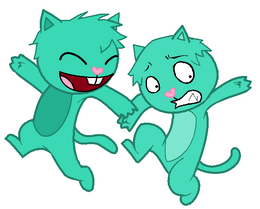 Piper and Trevor are duo characters.
Piper
Piper is a crazy and stupid blue cat. She loves to go to dangerous places. One time she unintentionally gorilla glued her right hand to Trevor's left hand. She is Trevor's twin brother. Her deaths usually involve his head.
Trevor
Trevor is a blue cat. He is a little bit of a coward. He likes hanging out with his friends. He often tries to remove the gorilla glue that is stuck to his left hand and Piper's right hand. His deaths usually involve his eyes.
Trivia
There last names are Toivonen
As of December 29th, 2015, Piper is female. This is because IceCriticGamer1661 is starting to find the name more feminine.
Gallery
Community content is available under
CC-BY-SA
unless otherwise noted.