Pitch is a fan character of HTFF.
Character Info
Pitch is a gray hyena with darkish gray markings. She have long black hair with purple marking and star-shaped barrette. Her outfits sometime changed in each episode she appeared in but she mostly seen wears blue shirt with purple jacket. 
Pitch is one of the most famous pop singers and musical artist, know for her famous songs such as Razzle Dazzle. She is shows to be a very independent person, as she doesn't have a manager. However, she does have a special effects person. She is also pretty happy-go-lucky in real-life and on stage. She does her best to interact with her fans, even cares about them.
Despite being a bit wealthy and famous ,she actually doesn't care about it, all she wanted to do is singing and shows her talent to people, especially her fans. She also never care about her haters even she aware of it. She wouldn't mind if someone wanted to help her out for her concert, it would make her work a bit easier. 
Pitch is perfectly aware of death in Happy Tree Town and takes special precaution before concerts to prevent any deaths. However, this doesn't always work sometime. She also making sure surrounding her is safe and pretty sensitive about something that could bring dangers. 
Episodes
Starring
Featuring
Appearances
Short
Fates
Deaths
Because You're Famous - Sliced into pieces.
Good Rebels - Killed inside the hotel collapse.
Pure Suntanned - Burned inside tanning bed.
Behind the Stage - Impaled by broken planks.
My Mother, The Star - Skinned after impaling Nutty.
Injuries
Off Camera - Face slammed by the door.
Kill count
Gallery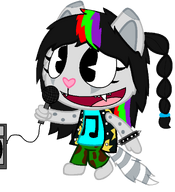 Click here to view this page's gallery.
Trivia
Community content is available under
CC-BY-SA
unless otherwise noted.