Not for Profit


Only the creator is allowed to use this character in episodes. If you wish to use this character, please ask permission first.

Poachy is a fan character currently owned by ShiftyKleptomaniac.
Bio
Poachy a brown coyote with the grey fur pelt of a grey canine-like animal over his head. He has little to no friends, as most characters fear he'll kill them. Funnily enough, it's the other way around, too.
He is sarcastic, cynical, and anti-social, with a strong fear of other people. He holds a firm belief that he lives in a kill-or-be-killed world, and that everyone and everything is against him.
He was treated poorly by his father, his mother wasn't in his life for reasons unknown, and other kids treated him horribly as well. These traumatic events resulted in his view of reality, believing no one really cared about him except for his deceased girlfriend, a rabbit named Carrot Cake. (Unnamed in Poachable Eggheads)
He has horrible trust issues and paranoia, believing everyone and everything wants to hurt him. He harms and/or kills other characters in self-defense, though most of the time the one he's harming isn't actually a threat.
He puts on a tough guy act, but in reality he is somewhat lonely.
To reform him, one would need to show him that not everyone is as horrible and bloodthirsty as he perceives them to be, which is easier said than done.
He is very skilled in using guns and other weapons commonly used to hunt. He won't hesitate to physically attack, either, furiously biting and scratching his enemy.
When he does end up trusting someone and feeling comfortable around them, he becomes very clingy, following them around, clinging to them, and getting upset when they're not around.
Poachy almost never survives his episodes. Most of his deaths include getting skinned and animal attacks (ironically). The only episodes he survived so far are An Odd Kind of Kind, Evil Ap-poach-ing, If It Ain't Broke Don't Mix It, Rhino-Plasty and Glass Eyed and Beaver Tailed.
Poachy's episodes
Starring roles
Featuring roles
Appearances
Deaths
Injuries
Kill count
Trivia
Gallery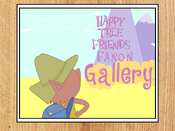 Click here to view this page's gallery.
Community content is available under
CC-BY-SA
unless otherwise noted.