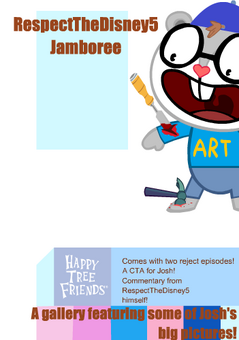 RespectTheDisney5 Jamboree is a fan made DVD that showcases some of debut episodes for RespectTheDisney5's characters. This DVD was made to show thanks to RespectTheDisney5 for his help on the wiki.
Episodes
Special Features
Comes with two reject episodes
A CTA for Josh
Commentary from RespectTheDisney5 himself.
A gallery featuring some of Josh's big pictures.
Additional Deaths
Back cover: Neil and Leaky are crushed by a large picture.
Main menu: Germy is impaled by multiple syringes.
Special features menu: Flash is crushed between the menu and the side of the screen.
Additional Injuries
Front cover: Josh is impaled in the arm by a chisel and a hammer smashes his foot.
Back cover: Peaky's tail is imapled by paint brushes.
Community content is available under
CC-BY-SA
unless otherwise noted.