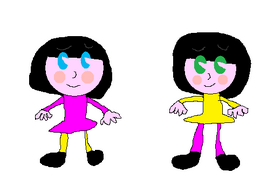 Rini and Mini are minor characters in
Happy Tree Friends: Partners Collide
.
Character Bio
Rini and Mini are Ginny's sisters. They're both 5 years old and made friends with Lifty and Shifty., even though the raccoons try to run away from the twins at times. Rini and Mini like all the tree friends, especially Lifty and Shifty.
Appearances
Its my birthday not yours
Night of the were-Tree Friend
Hard Lucky (Large Appearing)
Clfen Lied
Ewww Thats Growth
Pandemic 2: the startling
The Tattletale of Frankenette
Aliens can control you mind?