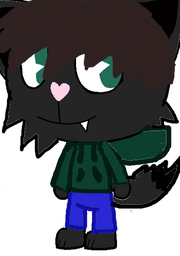 Ryder is a fan character.
Character info
Ryder is a 16-year-old black wolf. He wears a forest green hoodie with a white shirt underneath and dark blue jeans. He also has a tuft of black hair. He is a close friend of Raven's and the two can often be seen hanging out/talking together. Some of his friends believe that he secretly has a crush on her, though he insists that he doesn't.
Ryder is usually calm and friendly. He has the personality of a teenage boy, often making funny or dirty jokes and acting slightly immature at times, mostly with his friends. He likes to play basketball, draw, and sometimes play video games.
Trivia
He is about 3 months older than Raven
He has a fear of needles
Gallery
Community content is available under
CC-BY-SA
unless otherwise noted.