Shepard is a HTF Fanon character and winner of Vote or Die 2.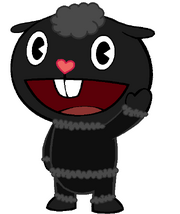 Bio
Shepard is a black sheep with a tuft of dark grey fur around his neck and on the top of his head. Shepard can be easlily described as a black sheep as he is extremely awkward and different, leading him to be hated and even ignored by characters. Despite this, Shepard is always happy and smiling, which is one reason why he is found awkward, the other is his odd love of death.
Shepard is fascinated by death to such a degree that he can be seen pushing other characters into the path of danger or causing it himself. And while Shepard rarely kills characters directly (like Flippy or any Flippy-sues) he is known to sometimes carry around a bag full of items that can cause characters to flip out. Shepard is also known to actually smile when he meets his fate, and he often attempts to slow his demise down yet never stop it.
He also likes to follow around unlucky characters, such as Leif and Squabbles, and may even laugh when they die. Shepard is seen to be good friends with Gloomy who he finds interesting due to his odd ability to avoid death, along with the fact that he will sometimes help Gloomy try to kill himself. Along with being friends with Gloomy, Shepard is enemies with Otus for unknown reasons.
Episode Roles
Starring
Featuring
Appearances
Fates
Deaths
Sheep of Trouble - Hit by a bus.
Don't Bug Me - Swells up and pops.
Burger Scott - Dies of blood loss after his wound is opened (debatable).
Lambs to Slaughter - Bleeds to death (debatable).
Gloomio and Juliet - Crushed by sandbag.
Ba Ba Black Sheep - Dragged down the road and has half his body scraped away.
Sheepy and Mr. Sausage - Eaten by Sheepy (offscreen).
Ringing Off the Cook - Mauled by Sheepy.
Injuries
Burger Scott - Belly cut open.
Lambs to Slaughter - Shot by bullet.
Gloomio and Juliet - Foot crushed.
Sphere to Stay - Flattened.
Innard-most Feelings - Intestines torn out.
Dying To Know - Flesh magically removed, turned into living skeleton.
Kill Count
Gallery
Community content is available under
CC-BY-SA
unless otherwise noted.