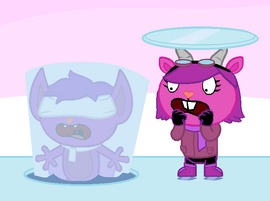 Skating Kringle is a HTFF Kringle.
Starring
Plot
Nimbus skates across a frozen lake, carving a circle in the ice. Ellie follows behind him, but slips and gets her horns stuck in the circle. Pulling herself out, she also leaves a hole in the ice. Nimbus returns only to fall into the hole, floating back up in a block of ice.
End Message
"Don't let the meaning of the holidays fall through the cracks."
Deaths
Nimbus is frozen solid.
Community content is available under
CC-BY-SA
unless otherwise noted.