Soffie is a character of HTFF.
Bio
Soffie is a violet alpaca who was born in a foreign country. She wears a grey wooly beret with a purple bow. She have a white hair with pigtails, wears wooly scarf, gloves and boots. 
Soffie is a traveler from other country into the town and seems very curious around it. She commonly walks around the town, taking photographs with her phone or else for a traveler. Soffie likes to try out some things that interest her in the town, even the dangerous one. 
Since alpaca used to live in the pack, Soffie actually away from her pack as she travels far away from her home place, wants to befriend with other people in the town. She willing to help others with her stuff from her bag(which are mostly woolly).
Soffie's movement can be very unexpected, mostly where she is located. She always appears or more likely lost in random places. Almost all of her stuff made out of wool or something soft, unaware that her wool keeping her from being injured by sharp objects or other stuff. 
Since she born from another country, Soffie often easily misunderstanding and confused what other's says and words, sometimes their culture. Similar to Wooly, Soffie can brings or gives something dangerous plus she will not aware of it. Thus, her help can be very troublesome. Her curiosity towards something brings it even worse, injures or even kills. She also not aware and very oblivious of something bad happened around her.
Episodes
Starring
Featuring
Appearance
Deaths
What A Magic - Impaled by frozen pieces of Rush.
Trouble with the Trolley - Face impaled by a shooting soda can.
Home Sour Home! - Eaten by ducks.
Carn-Evil Rides - Dies when a house collapses.
Alpacapella - Flattened with a mallet.
Kill Count
Trivia
Gallery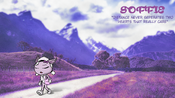 Click here to view this page's gallery.
Community content is available under
CC-BY-SA
unless otherwise noted.