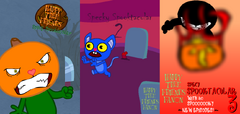 Specy Spooktacular is a film series based on Happy Tree Friends Fanon. It currently composes of 6 films. It is an annual tradition in the series.
Specy Spooktacular was originally created because there were lots of Halloween episode ideas that just wouldn't all fit into one season, so they were crammed together into a DVD. This was continued again for the following 2 years.
Each film is composed of many 3-7-minute shorts. They normally air on G4TV first and then release on DVD following.
Installments
Released
Upcoming:
Specy Spooktacular VII (Yet to be determined)
Trivia
All films last at least 2 hours. The first lasts 2 1/2 hours.
The title is basically "Spooky Spectacular" with "Spook" and "Spec" switched with each other.
Community content is available under
CC-BY-SA
unless otherwise noted.