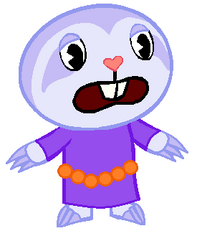 Spirit is a fan-made character of HTF.
Character Bio
Spirit is a pale purple sloth who wears a robe with an orange belt. He believes he has divine powers, and oddly enough his predictions or actions often seem to come true. Unbeknownst to him, however, it is usually by coincidence.
It is common that Spirit will worship anything or anyone he finds as sacred. When he does, he will do what he can to get others to do the same, or warn that a terrible fate awaits them otherwise. When it happens, again, it is by coincidence. Spirit is almost never aware of what happens around him, in fact he believes everything is controlled by some odd force.
Spirit lives in a large temple at the edge of the town. He is often seen hanging upside-down as means of meditation. His home is filled with objects such as crystals and gold, making it a target for thieves, who have been known to use Spirit's beliefs to their advantage.
Episodes
Starring Roles
Featuring Roles
Appearances
Deaths
Dalai Llama - Falls into sinkhole and possibly drowns.
Kill Count
Trivia
He appears to follow his own religion, hinted by his many strange habits (inviting comparisons to Wooly) and a shrine of himself at home. It is possible Spirit sees himself as some kind of "chosen one".
Sloth is one of the seven deadly sins, which is ironic considering his character and species name.
He hangs upside-down and moves slow like real sloths do. He is also usually tired and speaks with a bored expression.
His outfit is similar to the one worn by Buddhist Monkey.
He was originally planned to be an anteater.
On August 22 2015, he was given away to User:ThatOneNeighbor.
Community content is available under
CC-BY-SA
unless otherwise noted.