Stacy is a fanon character of HTF.
Character Bio
Stacy is a white skunk who wears a blue flower on her head and a lei made of yellow and purple flowers on her neck. Her most striking feature is that she lacks a tail due to losing it in an accident. In place of her tail are bandages on her rump, which she sometimes covers with pants, occasionally wearing false tails as well. She now has a large ponytail that resembles her old tail.
She is the younger sister of Petunia, initially having a similar dislike of uncleanliness until Playing Dirty; she doesn't mind getting dirty as long as it isn't to Fungus' degree. She was first shown to have a crush on Handy, due to their injuries. However, after Handy and Petunia's relationship reemerged in Together Again, she and Josh fell in love. They got married and raised children together. But much later in Stacy the Mom, Josh leaves her after she is caught cheating on him. She is now a single parent who cares for two of their children (barely better than how Pop cares for Cub) while sometimes dating other characters.
Episodes
Starring roles
Featuring roles
Appearances
Fates
Deaths
Push It to the Limit: Killed by Handy's tools.
Flying Colours: Sliced up by Fizzles.
Splintered: Pecked to death by Pecky.
Opposites Attract: Killed when the diner explodes.
Tale of Tails: Suffocated from sprayed liquid.
Together Again: Impaled by Cupid's (The Mole's) arrow.
Spray it Like You Mean it: Suffocated by Fungus' gas.
Josh's Busy Day: Squashed by frozen Sniffles.
Stealing the Contest: Hit in the forehead with a slingshot.
Young Love: Killed by the growing rock.
Processing: Killed by building.
Who Cut the Cheese?: Crushed by Flipper.
Stain with Me: Impaled by nails.
The Re-tail Store: Crushed by giant foot.
Northern Frights: Crushed by Santa's gifts.
Sea What I Did There?: Squished by sinking ship.
Curse You!: Burnt or crushed (debatable).
Birthday Party Freak: Slips over and falls.
Shrunken Heads: Head shrunken and stung by bee.
Smoochie 1: Vaporized in explosion.
Smoochie 2: Cut to pieces by light beams.
Smoochie 3: Shredded to the floor.
Seven Minutes in Heck: Smashed by glass bottle.
Cat Flight: Cut by Herman's claws.
It Fakes One to Tango: Bleeds to death (debatable).
Toilet Terror: Drowned or killed by house destruction (debatable).
Corpsessed Girlfriend: Crushed by boulder (revived as zombie).
Butting In: Crushed by a sign.
Belt It Out: Several of her organs are squeezed out.
Side Effect: Upper body crushed by a broken concrete.
Lantern It Go: Killed by a bear.

Broke the Prize: Sliced into pieces by broken glasses.

Spike It Up A Bit: Explodes.
Josh's Little Helpers: Crushed by a billboard.
If It Ain't Broken Don't Mix It: Explodes.
Dead or Tails: Crushed by a helicopter.
River Spoiler: Splatters into the ground.
Pads Out of Water: Sucked into the pipe.
From The Paws Of Death: Choked on a loose thread.
This is It: Face burned by a gas.
Light Off: Suffocated by Jerky's fart in the elevator.
I Wool Dye for Candy: Killed by Needle's quills.
Socio-Bath: Crushed by a water heater.
Barking Up the Wrong Tree: Flattened by Bark.
Face Closed: Killed by Lustly.
Napkin A Good Time: Burnt to bone by hot food.
Getting Off Toxic: Melts in toxic water.
Can't Unseen It: Mauled alive by Scrap.
Son of a Glitch: Behead by a counter.
Gummies For Dummies: Partially eaten.
An American Wereskunk in Happy Tree Town: Mauled by the wereskunk.
Left in Stitches: Smashed in the face.
Up Great Height: Crushed by the suspended platform.
Love Bugs: Eaten.
Swan Lake: Eaten by birds (debatable).
Makes Scents to Me: Crushed under a ladder.
Stink Differently: Impaled by her garden trowel.
Seasoning the Soup with Saltiness: Got sliced by silverware into pieces of chunks.
Werefox to Intervention: Mauled to death by Riston.
Flying Fox of Tolerance: Mauled to death by Willia.
Belle of the Ball: Horrifically crushed when the carriage she is in reverts into a pumpkin.
Fizzle Wizzles: Head impaled by a mail envelope.
Additional
Don't Climb That Ladder: Run over by a bus by Flaky.
Injuries
Prior to introduction (shown in A Tale of a Lost Tail): Tail torn off by zoo lion.
Stacy's Stumble: Twists her leg.
On My Tail: Hit by ambulance.
Gal Pals: Hit by ambulance. 
Didn't Saw That Coming: Sawed in half by Lumpy. 
Full Bloom: Nose bitten off.
It Fakes One to Tango: Arms are cut off.
Belt It Out: Waist is crushed.
Baby Mutant Lilly Turtle: Bitten in the arm by a snapping turtle.
Pads Out of Water: Hit by a pipe and later scalded.
Splot the Difference: Fingers caught in mousetrap.
Kill count
Trivia
Gallery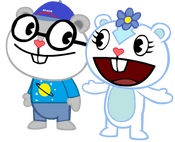 Click here to view this page's gallery.
Community content is available under
CC-BY-SA
unless otherwise noted.