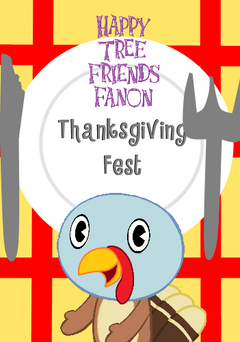 Thanksgiving Fest is an upcoming half-hour long special containing Thanksgiving-themed episodes of Happy Tree Friends Fanon. It will be shown on TV November 8, and will come out on DVD November 23, 2013.
All the episodes are shown on a plate with a fork and knife beside them. The episodes will be released on Mondo and YouTube in the first days of December.
Episodes
One Turkey and Two Greedy: Nutty and The Pilgrim are fighting for Thanksgiving's turkey! Who will win?
Historical Leeway: Thanksgiving's story with the Happy Tree Friends!
Pranks-giving: Pranky pulls a Thanksgiving-themed prank.
Thanksgiving Theives: Thrifty and Gifty rob people of their thanksgiving items.
Turkey or Jerk: Poachy ruins thanksgiving buy poaching turkeys it's up to stone and sniffles to stop him
Feeling Trippy On Thanksgiving: Trippy attempts to have a thanksgiving feast with his two friends.
Brand New Road: Turkey goes a few days in France for Thanksgiving. But he learns, too late, that the French do not celebrate Thanksgiving. And he also learns that he is in danger.
Not So Thanksgiving: Ironic tries to survive the most life threatening holiday for him, Thanksgiving
Thanksgiween: Sniffles make a robot-turkey for Thanksgiving. But the robot start to destroy the city.
Turkey Hunt: Giggles tries to stop lumpy form killing turkeys . Meanwhile, Sparky tries to thanksgiving dinner only problem the food gets burned.
Burpie Turkey: Toad buys a turkey, but doesn't notice that is says Gassy root turkey. Will he make all the tree friends ticked? or finds a top for that gassy bird?
Special Features
Intros and summaries (DVD only)
1st part: Episodes 1-4
2nd part: Episodes 5-8
3rd part: Episodes 9-12
4th part: Episodes 13-16
5th part: Episodes 17-20
Trivia
Gallery
Promotional art
Posters
Other
Community content is available under
CC-BY-SA
unless otherwise noted.