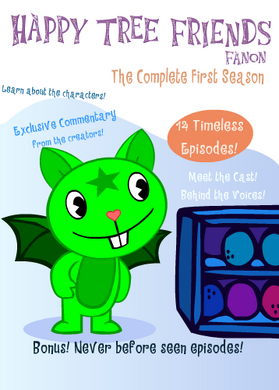 The Complete First Season DVD is a DVD containing all fourteen episodes from the first season.
Episodes
Special Features
Storyboard to Episode comparison
Voices of Happy Tree Friends
Commentary from the creators
Ironing Phones, exclusive HTF Break
Superspeed smoochie, exclusive smoochie
Blurb
"These deceptively cute critters can't stay of trouble! From choking on tacos to having their eyes pecked out, these adorable characters are in a world of hurt. This DVD contains the first fourteen classic episodes! Enjoy them, or be killed by Ale! This DVD comes with some of your favorite characters, including:
Hippy
Puffy
Superspeed
Ale
Fungus
and many more!"
Features (as written on the cover)
Meet the Cast! Behind the Voices!
14 Timeless Episodes!
Exclusive Commentary from the creators!
Bonus! Never before seen episodes!
Learn about the characters!
Additional Deaths
Puffy and Fungus are crushed under the DVD
On the main menu, Howdy lassos himself and dies of strangulation
On the back, Ale is seen stabbing Peppery.
Community content is available under
CC-BY-SA
unless otherwise noted.