The Complete One Hundred and Oneth Season is a DVD contaning all the Season 101 episodes of HTFF.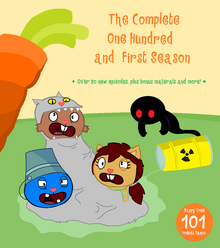 Episodes
Bonus features
A tribute to the first two arcs to celebrate HTFF's 68th anniversary.
Storyboards for Don't Toxic Waste Your Life, Quack Under Pressure, Rapping Ready and Mutant Pokécreatures.
Stacy's Blood Fest.
Turning 101: The short clip montage of the whole arc seasons of HTFF - From What's Up My Peeps to The Mole Of Loch Ness.
The debut of Brunin in HTFF.
Short preview of Season 106 and upcoming Season 105 episodes.
CTAs for Katze, Drako, Dorobõ, Yum Yum, Gawle and Ghoul, Glitch and Sarky.
Bonus breaks: A Smile is Always Tree, Scuse Me Cheese, You Should Drink About It, Pony Rides and Juicy Ride.
Community content is available under
CC-BY-SA
unless otherwise noted.