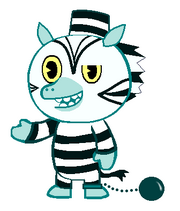 The Zebra is an unnamed character who makes cameos in some episodes.
Bio
Not much is known about him, except he is a criminal as shown by his clothing and that he was first seen in a prison (in Feeling Sharp). He also robbed a bank in That's Nonsense and was imprisoned again in That's the Law!.
In a typical episode, he makes background cameos. It is shown in Scars and Stripes he is responsible for vandalism by painting black & white stripes on objects such as Josh's art.
It is possible he could become a more central character in the future instead of simply making cameos.
Episodes
Starring
Featuring
Appearances
Deaths
Crow Marmot: Probably dies from the snowstorm (debatable).
A Millennium of Unfortunate Events: Shot with a firework at the same time as Cubey and Puffy, caused by The Mole.
Old or New (Part 2): Falls off cliff.
Free Pugs: Crushed by a piece of the restaurant.
Flip Defense: Crushed by his chain ball on the game over screen.
Identified Flying Object, Part 4: Crushed by his chain ball by Josh.
Scars and Stripes: Beheaded by a tiger's claws.
Jail Rabbit and Puppet: Drowns (debatable).
Horse Power: Turned into glue.
That Skinning Feeling: Killed by Poachy prior to episode.
Wild Roots: Impaled by a sharp rock.
I'm Re-zet-ting This: Stabbed with a glass shard.
Convictus Games: Head smashed.
Trivia
Gallery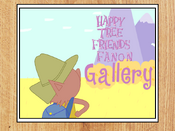 Click here to view this page's gallery.
Community content is available under
CC-BY-SA
unless otherwise noted.