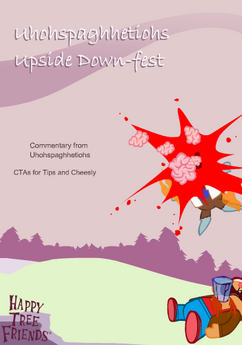 The Uhohspaghhetiohs Upside Down-fest is a DVD containing the many starring roles of Uhohspaghhetiohs' characters.
Episodes
Additional Deaths
Cover: Webb is impaled in the chest by an icicle, and Eejit's upper half explodes
Menu: Cheesly has a heart attack
Episode Select: Bruiser is crushed by a barbel
Bonus!!
Commentary from Uhohspaghhetiohs
CTAs for Tips and Cheesly
Exclusive action figures of Webb, Bruiser, Tips And Cheesly
Community content is available under
CC-BY-SA
unless otherwise noted.