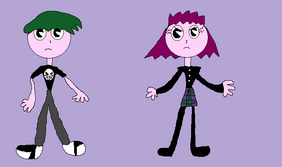 VJ and Daisy are minor characters in
Happy Tree Friends: Partners Collide
.
About VJ
VJ is a goth, like Daisy. He likes video games. No one but Daisy never ruin his game zone. He has green hair.
About Daisy
Daisy is also a goth. She likes rock music, but she really has a crush on Handy. She has pink hair.
Appearances
Its my birthday not yours
Night of the were-Tree Friend
Pandemic 2: the startling
The Tattletale of Frankenette
Aliens can control you mind?
Battle to the face
The mask of beast