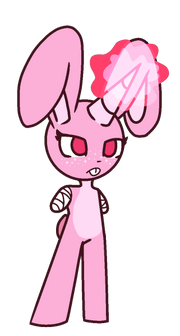 Walda is a fan character.
Bio
Walda is pink genericaling (takes the form of a Uni-Rabbit) the second adopted child of Raymond and General Daisy/Handy, She was adopted from Generica but lost her hands and wings during a freak accident. Besides that, she was clinical depression when she was a toddler, and as a result is very grumpy and almost never smiles. However, she is actually very easy to befriend, once you get past her crankiness.
Episodes
Starring
Featuring
Kills
Fates
Deaths
TBD
Injuries
Mind in Genercia - Arms and wings cut off (permanent).
Un-Uni-Rabbit - Loses her horn.
Trivia
Gallery
Community content is available under
CC-BY-SA
unless otherwise noted.