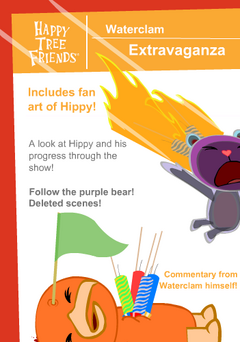 Waterclam Extravaganza is a fan made DVD that feautres many deput episodes of Waterclam's characters. The DVD was released to show thanks to Waterclam for all his work on the wiki.
Episodes
Special Features
Includes fan art of Hippy!
A look at Hippy and his progress through the show!
Follow the purple bear!
Deleted scenes!
Commentary from Waterclam himself!
Additional Deaths
DVD cover: Hawkeye is impaled on a through the head by flag and though the chest by several fireworks.
On the disc: Buddy is is wrapped around the disc.
Episode select menu: Burr and Meaty crushed by the menu.
Additional Injuries
DVD cover: Hippy is lit on fire by fireworks.
Main menu: Lumpoo has both antlers cut off.
Community content is available under
CC-BY-SA
unless otherwise noted.