Yuna (Chinese: 玉娜, Pinyin: Yùnà) is a character of HTFF.
Bio
Yuna is an orange red panda who wanted anyone to treat her like a princess. She have a long orange hair with purple barrette and a ponytail. She often seen with her paper fan or oil-paper umbrella.
Yuna is actually self-centered and a bit arrogant, but can be friendly and calm person sometime. She proclaimed herself as a princess and wanted anyone around her to treat her like it. She can be very bossy and pushy because of this. She acts some people around her are her slaves and demands things from them most of the time.
Yuna cares about perfection(mostly herself) and beautiful stuff a lot, also wanted some place to be beautiful in her eyes. She can be disgusted easily by something that she's sees ugly, also wanted someone to "fix" it up for her. She can be flirtatious, only just wanted someone's attention and attracts to her, highly chances become her slaves later on. She would do something to get someone's attention. 
She acts herself is more important than some people she sees(likely sees them as peasants) and doesn't care about them most of the time(she does care, rarely). She also disgusted by something gore and wanted keep herself away from it. She can be easily challenged by others who proclaim themselves as the royal and important one.
Episodes
Starring
Featuring
Appearances
Deaths
Ringing Off the Cook - Slammed into the wall.
Within a Wheelchair - Smashed into the wall.
Have It on Photo - Sliced in half by her fan.
Royal Fan - Burnt to a crisp.
Injuries
Fetch a Quail of Water - Receives minor burns.
Kill count
Trivia
Yuna's full name is Yuna Zhou. She also a Chinese.
Yuna was teased on her creator DA in July 2017.
Even though she proclaims herself as a princess, she's actually not from royal family. She also can bothered and challenged by other royals and someone who pretend to be royals.
She often appears gliding down the tree with her umbrella. 
Gallery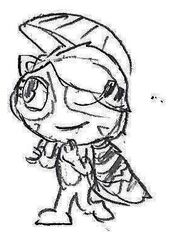 Click here to view this page's gallery.